Dissemination & Marketing Support
Europe's biggest network in bio-based and CO2 economy – we can bring you in contact with relevant research and business partners best suited for your ideas. nova links scientific knowledge and marketing expertise. 
Download or leaflet for detailed information.
Dissemination
Dissemination – project management: planning, organisation, management, execution and control
Tailor-made project solutions for different target-groups – B2B, B2C, scientific communities
The communication, dissemination and exploitation activities are key in supporting a project's output and achieving the planned impacts. nova has extensive experience in implementing and executing these crucial activities in national and international projects. Dissemination and exploitation plans structure the dissemination and exploitation activities on projects, resulting in communication activities tailored to the specific objective and targeted at the relevant stakeholders including industry, policymakers and society.
Naturally, we maintain long-term partnerships and media relationships beyond our ongoing projects. If you are interested in working with us, get in touch.
Understanding your Customer
In-depth psychological market research on bio-based products
Which materials and products do consumers expect in their daily lives in the future?
For which applications will they prefer bio-based products and when will consumers rather make use of things from recycled materials?
What do consumers think about the biodegradation of plastics or the use of CO2 for fuels and mattresses?
Do consumers make a difference between first and second-generation biomass feedstock for bio-based products?
These and other questions keep industry and policymakers busy. Their answers will have a great influence on how the European bioeconomy will be shaped in the next decades. Many quantitative and semi-quantitative studies have been carried out over the last few years, but the picture is still not quite clear. This gap is being filled now by our novel approach. Instead of conducting the xth standard survey, we provide the combined expertise of two renowned specialists in their fields to supply you with the information you really need.
Download our leaflet to learn more about our approach.
Conferences & Workshops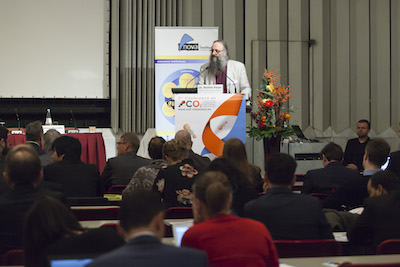 nova organises some of the biggest conferences worldwide for the bio- and CO2-based industry. Besides providing a chance to meet the industry and find out about the latest developments, we are also dedicated to supporting new, innovative ideas. That's why we award the innovation awards "Bio-based Material of the Year", "Best CO2 Utilisation" and "Renewable Material of the Year" to promising products.
Regular nova Conferences:
nova Sessions
nova also hosts an ongoing series of interactive and informative workshops for experts on the latest topics of the industry, the "nova Sessions". nova Sessions revolve around topical issues of the bio-based and CO2-based economy. Participants are encouraged to bring their own questions and shape the discussion.
Missed a conference? Proceedings of past nova conferences are available at renewable-carbon.eu/publications