Market Research
In the new and innovative bio- and CO2-based economy, market conditions change fast. To establish your product successfully, you need a good understanding of the environment you are working in and the customer you are working for.
What are the most promising applications? Who are your main competitors? How will the market develop in the next few years? Would a sustainability label bring a significant advantage?
nova keeps track of the bio-based building block and polymer markets worldwide, working closely with a high-level biopolymer expert group from Asia, Europe and the US with direct contact to the leading bio-based building block and polymer producers in the world.
We also have an eye on technological and market developments in wood and natural fibre reinforced biocomposites (WPC and NFC), a market segment with many applications and growth potential. To stay informed about the latest developments in this area, follow our news feed at news.bio-based.eu/biocomposites
Profit from our specialist knowledge, expertise and connections.
Take a lo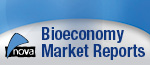 ok at our series of comprehensive market and trend reports, covering the latest developments in from building blocks an polymers, markets and regulations,  and everything inbetween www.bio-based.eu/reports.