In-house Workshops, Dissemination & Industry Events
Europe's biggest network in bio-based and CO2 economy – we can bring you in contact with relevant research and business partners best suited for your ideas. nova links scientific knowledge and marketing expertise. 
In-house Workshops
Where are the chemical and material worlds heading? What alternatives beyond the fossil value chains already exist today? Where are investments worthwhile, where are there still risks? Which trends are clearly emerging?
The nova team is investigating these questions from the perspectives of technology and markets, sustainability and circular economy, economics and politics, strategy and communication.
Book your in-house workshop now, for example on one of the following topics:
Bio-based Polymers Technologies, Markets, Capacities – a Business Case?
CO2-based Chemistry and Polymers – a High Potential?
Advanced Recycling Technologies and Outlook – Which Concepts will Succeed?
Biowaste Feedstock Availability and Technologies – The Future?
Renewable Refinery – Pathways to Ethylene and Beyond
Sustainability in Theory and Practice – What are the Best Approaches for your Business?
Green-Green Conflicts – Interpretation is the Key
Food or Non-Food – Which Crops are best for Food Security and Industrial Uses?
EU Green Deal – Understanding the European Policy Framework
Other topics are available on demand! We discuss and evaluate your focus points. Book your in-house workshop customised to your needs.
Contact Michael Carus for more information.
Dissemination
Dissemination – project management: planning, organisation, management, execution and control
Tailor-made project solutions for different target-groups – B2B, B2C, scientific communities
The communication, dissemination and exploitation activities are key in supporting a project's output and achieving the planned impacts. nova has extensive experience in implementing and executing these crucial activities in national and international projects. Dissemination and exploitation plans structure the dissemination and exploitation activities on projects, resulting in communication activities tailored to the specific objective and targeted at the relevant stakeholders including industry, policymakers and society.
Naturally, we maintain long-term partnerships and media relationships beyond our ongoing projects. If you are interested in working with us, get in touch.
Industry Events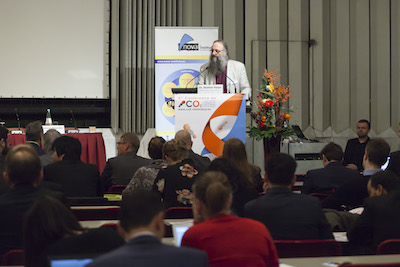 nova organises some of the biggest conferences worldwide for the bio- and CO2-based industry. Besides providing a chance to meet the industry and find out about the latest developments, we are also dedicated to supporting new, innovative ideas. That's why we award the innovation awards "Cellulose Fibre Innovation of the Year", "Best CO2 Utilisation" and "Renewable Material of the Year" to promising products.
nova Sessions
Gain insight into political backgrounds, latest market developments, upcoming technologies or learn to better understand and use sustainability assessments. 
nova hosts an ongoing series of interactive and informative workshops for experts on the latest topics of the industry, in-person, online and as hybrid events. 
nova Sessions revolve around topical issues of the renewable carbon economy. Participants are encouraged to bring their own questions and shape the discussion. 
Find all upcoming events at renewable-carbon.eu/events